Discover, enjoy and relax
Gîte le Bac
Jumilhac-le-Grand, France
The Chalet
Welcome to Gîte Le Bac!
Jan and Dianne wish you a warm welcome at Gîte Le Bac. A lovely woode chalet where you can enjoy all the beauty of the Perigord Vert in the north of the Dordogne. Gîte Le Bac is located near the authentic village of Jumilhac Le Grand.
Gîte Le Bac was built completely new in 2019 and stands on a separate part of the grounds so you can enjoy the tranquility. On hot days you can jump straight into the private swimming pool, which is located right next to the chalet. The chalet is suitable for four people and consists of a living room with op kitchen, two bedrooms, bathroom with toilet, sink and shower. Gîte Le Bac is attractively heated with a wood-burning stove.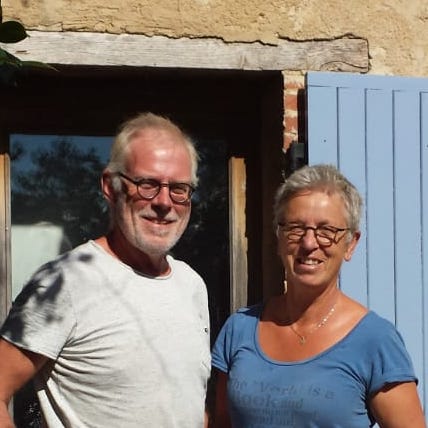 "Relax, enjoy and be amazed. That is all possible in Gîte Le Bac".
Jan & Dianne, your host and hostess
Gîte Le Bac
Gîte Le Bac is suitable for 4 people and has its own swimming pool. The gite is a wooden chalet consisting of a living room with open kitchen, two bedrooms and a fully fitted bathroom. There is also a spacious covered outdoor terrace. The chalet is heated with a wood stove. Book Gîte Le Bac * Gîte Le Bac is rented from a minimum of three nights.
* Gîte Le Bac can be booked for a minimum of three nights
Practical information
Facilities
Kitchen & living
The fully equipped kitchen has a large fridge with freezer compartment an an electric oven with gas hob. Pans, cutlery and crockery are provided. Find yourself in the cozy sitting area.
Bathroom
The chalet is equipped with a complete bathroom with a washbasin, toile and a luxury shower cabin.
To sleep
Gîte Le Bac has two bedrooms; a bedroom with a double bed and a bedroom with two single beds that can also act as a double bed.
Pool
The gîte has its own swimming pool that is located directly next to the chalet. Next to the swimming pool you can relax on the sun beds.
Wood burning stove
In cold days the gite can be warmly atmospheric heated with the wood stove.
WiFi
WiFi is available in the chalet.
Children
A camp bed and a high chair are available for children on request.
Check in check out
The gîte is available from 15:00 on the day of your reservation, on the day of departure you must check out by 10:00 at the latest.
Cancellations
Cancellation must be made by email.
Cancellation fees:
From the moment of booking to 4 weeks before the start of the booked period 20% of the rent.
From 4 weeks to 14 days before the start of the booking 75% of the rent.
Within 14 days before the booking date 90% of the rent.
We advise you to take out cancellation insurance yourself.
More information?
Send us a message
Perigord Vert, Dordogne
Location & environment
Gîte Le Bac is located in a hamlet 2 km from the village of Jumilhac Le Grand. Jumilhac Le Grand is centrally located in the triangle of the three major cities, Limoges, Perigueux and Brive Le Gaillard.
Surroundings
Jumilhac Le Grand is located in the Perigord Vert, this is located in the northern part of the Dordogne. This is also in a nature park; parc naturel regional Périgord Limousin. Jumilac Le Grand In the village of Jumilhac Le Grand you will find a bakery, butcher, restaurant, tourism office, and a small supermarket. In the middle of the village is a beautiful castle that can be visited. St.Yrieix la Perche is 10 km away, where you will find several larger supermarkets, restaurants and a hospital.
Cycling & mountain biking
In the area it is beautiful cycling, with a nice little village on the way for a stopover. There is little traffic on the road so that is relaxed. A rolling area that requires a good bicycle with multiple gears. Marked routes for mountain bikers are also available, so that you can also access the forest trails. In this region you will also find the so-called voie verte, a car-free path built on a former railway line and a great path for cycling because it is relatively flat.
Motorcycling
Do you not just drive straight on, but more of the better cornering than you can indulge in the area. On the way, be surprised by the beautiful hilly landscape with nice villages and hamlets. Because there are few other road users you sometimes feel alone on the road.
Flea markets and weekly markets
From the spring to late summer the flea market runs, where your guilderr is worth even more. Be surprised by the nice things that are offered for sale. For more information, visit: www.vide-greniers.org.
The weekly market is a must for weekly shopping, many local products are offered for sale here such as: foie gras, local cheeses, wine, truffles and various types of bread.
To walk
You make beautiful walks in this area through the hilly and wooded area. From the chalet, but also from Jumilac-le-Grand, some beautiful routes start and when you get in the car there are many more accessible.
Canoeing & kayaking
On the river Auverzère: This can be done from different places, including from Cherveix-Cubas, see website www.vert-Auverzère.fr. Canoe trips are also organized in the village of Cubjac, from the l'îlot campsite. 
Fishing
This can be done, for example, in the large reservoir of Mialet, plan d'eau de Mialet or in the lake of La Barde. Also in the l'Isle, Dronne or Auverzère rivers. Fishing license is required for this, this is available at the local tourism office.
Rock climbing and gold search
Rock climbing is possible in Jumilhac Le grand. Gold mining for children in the l'Isle river, information about this can be obtained from the tourist office in Jumilhac Le Grand.
Swimming
This is possible in Lac de Rouffiac. You can also go pedal boating, canoeing, paddle surfing, fishing and water skiing here via a cable ski run.
www.rouffiac-loisirs.com. At Nantheuil, Étang de Nantheuil. You can also swim in Saint-Hilaire-les- places in the lake Lac Plaisance, with a large slide, diving board and pedal boats. In Jumilac Le Grand is also a nice outdoor swimming pool, within walking distance of the chalet.
Discover the Dordogne
Book now
Come and enjoy the quietness, nature and castles in the Perigord Vert.
128 Chemin des Mûres, Le Bac Ouest 24630, Jumilhac le Grand